Euro 95 is out, E10 is in. Will the MGF & MGTF be able to run on E10 petrol?

From Tuesday (October 1) petrol stations in the Netherlands are selling the fuel E10 as a replacement for Euro 95. E10 is cleaner but not all cars are compatible, motoring organisation Bovag warns. E10 contains up to 10% sustainable bioethanol and cars that run on it produce 2% less carbon dioxide on average. The European-wide measure is aimed at reducing dependency on fossil fuels. Petrol stations with fewer than two petrol pumps are exempt from the measure.

Car dealers' federation Bovag estimates some 700,000 cars in total may be unable to use the new fuel. As a rule, drivers of cars registered prior to 2002 are advised not to use E10 in their vehicle, as problems have been reported. Possible damage can be caused by bioethanol's corrosive properties which can lead to damaged seals, plastics and metals.

In order to avoid these problems, owners can turn to so-called premium fuels, such as the more expensive Firezone Premium (98 RON), Shell V-Power (98 RON) and BP Ultimate (98 RON).



Toyo Proxes T1R tyre problems
This warning in the MG Enthusiast a short time ago is the result of several MGF and TF owners having reported handling and stability issues when replacing worn Toyo Proxes T1R tyres. The problems have all arisen when they change the tyres on the rear of their car with identical new Toyo Proxes T1R tyres, leaving their less-worn older Toyo Proxes T1R tyres on the front, and it applies to cars with 15" and 16" diameter wheels and the different size tyres applicable to both.

The problem manifests itself immediately after tyre change of its nature when the cars become very unstable, especially at speeds above approximately 70 km/h. This phenomenon was first seen in October 2014, and over the following weeks several additional owners who all simply renewed their worn rear Toyo Proxes T1R for apparently identical new Proxes T1R suffered exactly the same problem. Tyre pressures were not to blame, and so this pointed to an issue related to the new tyres. The problem is as noticeable as it is simply because the MGF and TF are so sensitive to tyre choice - a small difference in tyres fitted to most mainstream cars which doesn't cause any problem can easily upset the MGF and TF.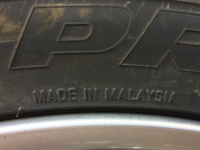 Following very helpful discussions with the Toyo's Technical Department, the source of the problem has been quickly identified and a solution found. Basically, Toyo have had to apply some very small changes to the tyre make-up to ensure they fully comply with the Tyre Labelling Regulations (the label that gives various performance factors of the tyre). Unfortunately the small changes involved are enough to affect the MGF and TF and are generating the loss of stability. The new spec tyres are all Proxes T1R manufactured in Toyo's Malaysian factory and the Proxes T1R tyres made in their Japanese factory from September 2014. All existing Proxes supplied and fitted to cars up September 2014 will have been made in the Japanese plant and will be to the older specification.
Identifying the tyres is quite simple as the country of origin where they were made is clearly moulded into the sidewall along with a date code with a four digit number.
The last two numbers of this code are the year and the first two are the week number, starting from 1 January. There is often a prefix of letters and sometimes an additional number before the date code numbers, but the date code always remains the last four numbers. The example in the second image shows V6H1416, where V6H is a prefix and 1416 refers to week 14 of 2016.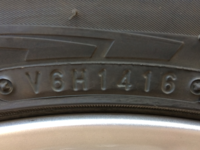 MGF an TF generate more wear on rear tyres, so it is common that owners will be facing renewal of the rear tyres before the front. Owners of cars that have been using these MG-approved Toyo Proxes T1R for some time are most at risk of encountering this problem, as it is reasonable for owners to expect that replacing the worn tyres with new identical (as they believe) MG-approved tyres will not create problems. But the new spec Proxes T1R (ie. all tyres made in Malaysia and those made in Japan from September 2014) will, when fitted to the rear of an MGF or TF while the earlier spec Japanse made Proxes T1Rs remain on the front, almost certainly cause the problems described.

However, if the front tyres are replaced with the newer spec Proxes T1R to match the rear, than the handling should return to normal, as has been seen on several cars originally affected. There is obviously a cost implication to owners in this. (Incidentally there is no specific data to say that having old spec Toyo Proxes T1R on the rear and then fitting the new spec ones on the front will cause any problem as it is the rear tyres that are controlling influence, but we do not have any data from cars set up in this way.

One final important point is to ensure that the correct MG-recommended tyre pressure are set, as a too common issue is that owners and indeed tyre fitters feel they know better than the MG chassis development engineers and unilaterally decide to apply their own thoughts on pressure. This usually relates to the common 36 psi/2,4 bar rear pressures for the MGTF and MGF Trophy 160 models, and dropping these to normal MGF pressures significantly degrades both handling and stability.

Source: MG Enthusiast